Academic Services staff assists student-athletes with making timely and satisfactory progress toward their degrees. This can include, but is not limited to, academic advisement, tutorial and instructional support as well as educational programming. The office works in collaboration with coaches, University staff, and various athletic personnel regarding student-athlete academic matters and ensures compliance with all institutional, National Collegiate Athletics Association (NCAA) and
Big Ten Conference rules and regulations. The staff is dedicated to the success and development of Iowa student-athletes and encourages students to be
active contributors to the campus community.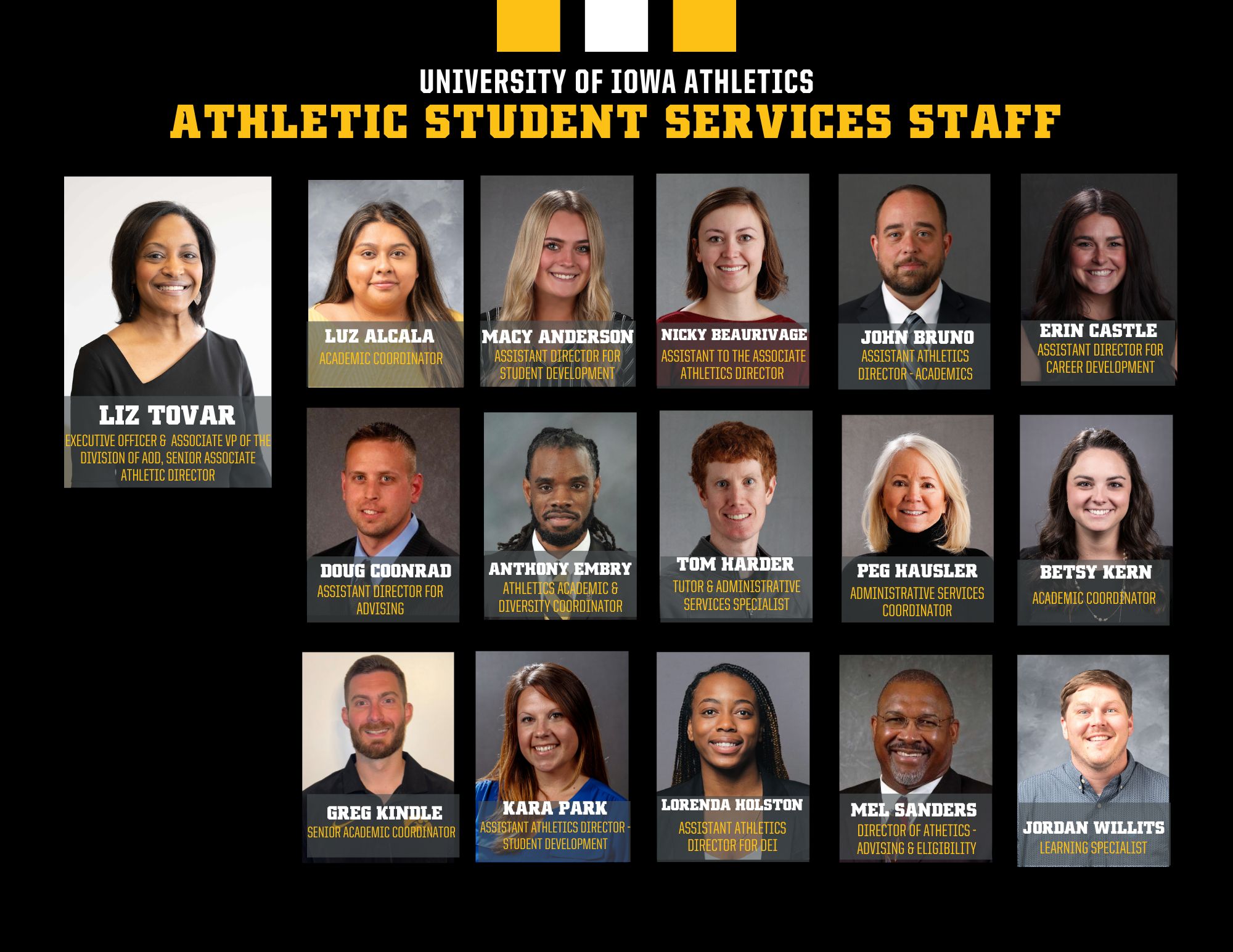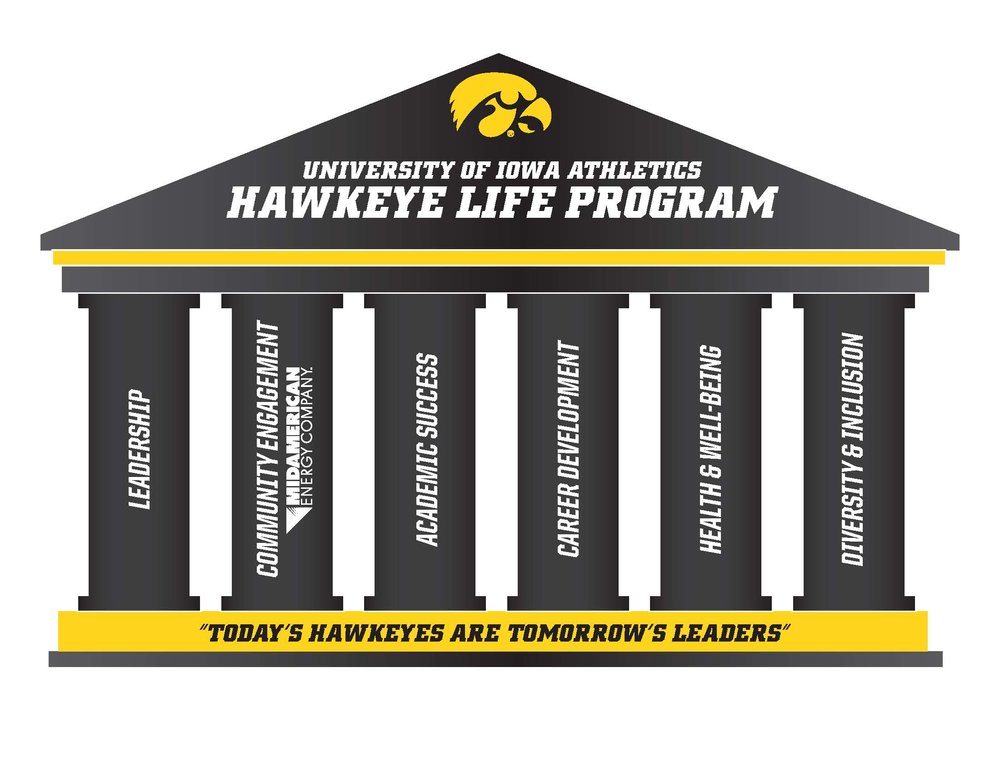 The Hawkeye Life program is an all-encompassing life skills and leadership development model which seeks to enhance the student-athlete experience at The University of Iowa. Hawkeye Life offers student-athletes educational opportunities beyond their athletic and academic responsibilities. The goal is to encourage student-athletes to get involved, to be good citizens, and to take an active role in their personal and professional development. The program has six pillars.
Supporting the Hawkeye Life Program
To help our student-athletes receive a world-class academic experience, we need your support. Your philanthropy will help us continue to sustain the six pillars of the Hawkeye Life Program and give our student-athletes the tools needed to succeed in the classroom and beyond. To learn more about Hawkeye Life funding opportunities and ways to support student-athlete success, visit the link below and/or contact Sloane Tyler (or one of our other athletic development officers) at sloane.tyler@foriowa.org or 319-335-3305.
Leadership
The Hawkeye Life Leadership pillar prepares student-athletes to be positive role models, active citizens, and successful professionals. Programs within this pillar pave a path for all student-athletes to grow leadership skills during and beyond their time at the University of Iowa.
Community Engagement

The Mid-American Energy Community Engagement pillar seeks to enhance the growth and development of student-athletes to become Hawkeye leaders and productive citizens. Service is an important piece of the student-athlete experience. Student-athletes participate in community service projects throughout the academic year. These opportunities also promote student-athlete collaboration and support for one another.
Academic Success
The Hawkeye Life Academic Success pillar is dedicated to supporting the intellectual and personal growth of all student-athletes through the coordination of campus-wide initiatives that support the student-athletes' transition to the University of Iowa and enhance retention and graduation rates.
Career Development
Student-Athlete Academic Services (SAAS), in collaboration with campus career entities, is committed to ensuring student-athletes have a direction during their academic studies and are prepared for careers after graduation. Student-athletes will participate in career readiness programing including, but not limited to; career and major exploration, resume development, professional skill-building, networking, and experiential learning.
Health & Well-Being
The SAAS office recognizes that student-athletes must focus on physical and mental health and well-being in addition to academics and athletics in order to be successful. This includes nutrition, mental health, coping with injuries, alcohol and drug education, body image, etc. In collaboration with campus counseling services and a full-time Sport Psychologist housed within SAAS, we aim to offer programs which address these specific needs.
Diversity & Inclusion
The athletics department seeks to cultivate a safe and accepting environment for all student-athletes regardless of gender, sexual orientation, race or ethnicity, etc. The Hawkeye Life Program coordinates various programs that provide all student-athletes with opportunities to learn and understand cultures and communities that differ from their own. The programs also provide minority student-athletes with leadership, networking and career development opportunities.